Eclectic Lifestyles Found in Western North Carolina Equestrian Communities, Horse Farms, Luxury Homes and Properties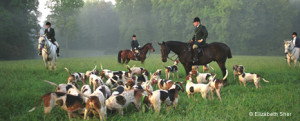 Polk County North Carolina, sometimes described as a picture perfect mountain setting, offers an eclectic mix of lifestyles. The communities of Columbus, Saluda and Tryon or their nearby South Carolina neighbor Landrum, are all the kind of place that people write books about.
A quiet pace and attractive real estate prices combined with a historically vibrant equestrian community and cultural retreat, Polk County, North Carolina and its people share a kindred spirit. A love of horses, history and mountain culture unite the growing communities of the foothills. More than 15 equestrian clubs and organizations make this area one of the country's premier centers of equestrian life. Every spring the town of Tryon welcomes thousands to the annual running of the Blockhouse Steeplechase.
The quality of life offered here will fit the lifestyle of a family looking to put down roots, baby boomers looking for a vacation or retirement home, or retirees ready to leave the fast paced life behind. The foothills of western North Carolina is a great place to live and a great place to invest. The real estate scene has some of the finest selections of equestrian communities, properties, horse farms and open land where your dreams can be fulfilled.